8 Simple Strategies to Boost Employee Engagement and the Bottom Line Solution Brief
Get Organizational Strategies to Improve Employee Engagement and Profitability
A disengaged and dissatisfied workforce does not bode well for any business. Add in the Great Resignation and labor shortages, and it's a recipe for potential disaster.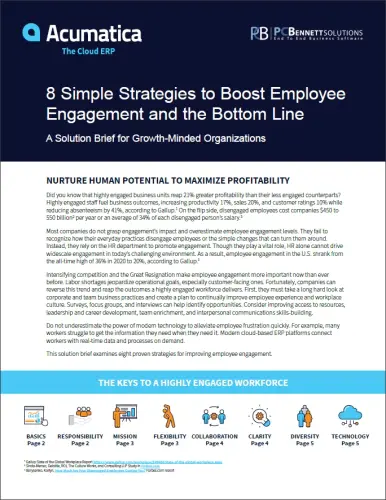 Thankfully, there are specific strategies, including implementing modern cloud-based ERP platforms, that ease workplace frustrations and encourage employee engagement.
The result? Increased productivity, sales, and customer ratings.
In this solution brief, you'll learn about 8 strategies for maximizing employee engagement including:
Getting back to basics and sharing responsibility
Defining a shared mission and objectives
Promoting flexibility and setting clear expectations
Embracing diversity, equity, and inclusion while fostering collaboration, communication, and a team culture
Don't miss this opportunity to take employee engagement to the next level.
Download the solution brief today.