Acumatica Tips & Tricks
PC Bennett Solutions has a professional team ready to help you get the most out of your ERP software investment. Please take a moment to browse these Acumatica resources to find out more about Acumatica, ERP software, and what we can do for your business.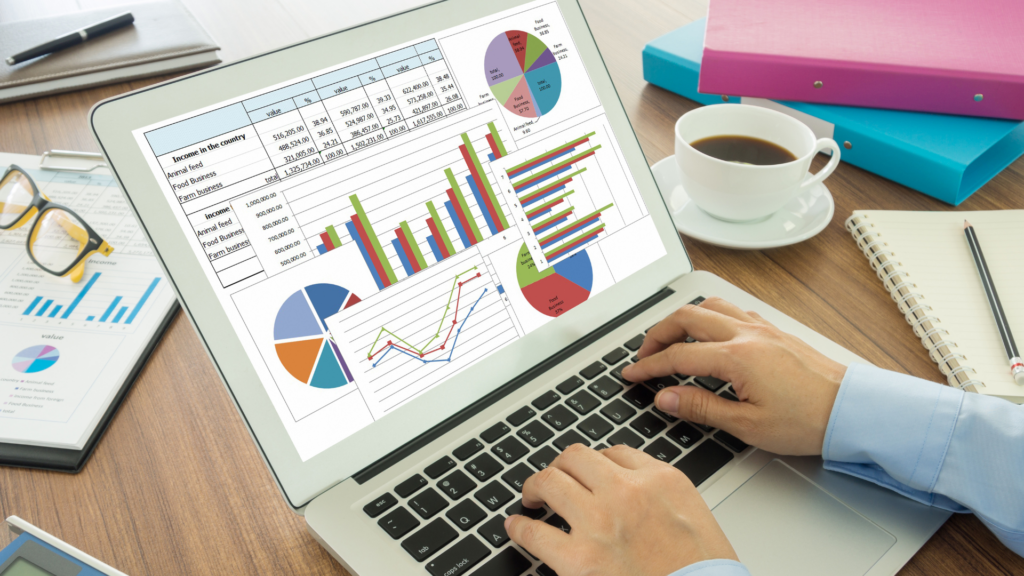 Acumatica Financial Functionality You Might Not Know About
When it comes to using a platform as robust as Acumatica, there are sure to be a suite of features and functionality that you may not know about. Whether it is because they didn't come up in implementation conversations, they were too small of details to cover in training sessions, or they are new and there wasn't a huge announcement around them, we at PC Bennett are trying to keep you informed on how to be effective and efficient users who leverage the ERP in the most streamlined way.
Let's look at some of the functionality in the Financial module that you may not know about. As a warning, some of these items are included in all Acumatica packages and some are add-ons that need to be purchased at an additional cost. In the post, we will try to make it clear what requires extra dollars being spent.
Acumatica Posts
Navigating the challenges of the marine industry requires more than just passion and knowledge; it …
Being able to manage and track your shipments from embarkment location to your warehouse is a …
When it comes to using a platform as robust as Acumatica, there are sure to be a suite of features …
Acumatica Video Case Studies
Danforth Pewter
CEO Bram Kleppner and Beth Morrissey, Vice President of Finance and IT, had run Danforth Pewter's manufacturing and retail operation for the past 24 years on the same software and hardware, getting the very most out of their assets. Kleppner knew at some point, however, that the software and hardware would reach their end of life.
SHOEBACCA
Shoebacca was focused on brand loyalty via a major investment in e-commerce – on their own web site. But Shoebacca's growth is now tied to another goal – product visibility from the warehouse to the customer as they push to enhance back end visibility, improve returns, and apply bold new retail metrics.
Aditi Staffing
Aditi Staffing provides highly technical staff for technology and telecommunications companies. When Aditi Technologies was purchased, the staffing division quickly had to become a standalone entity. In addition to hiring a new accounting and administrative team, Aditi Staffing needed an accurate accounting system that was a cloud-based solution with remote access, financial accuracy and visibility, and a platform for rapid growth.
Acumatica FAQs
What are the main features of Acumatica Cloud ERP?

Acumatica Cloud ERP offers the following features:

You have options: Choose between SaaS and on Premise
Work anywhere you have an Internet connection
No client software to maintain as the software is always current
Integrated ecommerce and traditional sales orders
User defined dashboards
Included report writers for customized BI
Advanced accounting – multi-currency, consolidation ledgers
Advanced distribution – inventory, sales, purchasing
Advanced CRM – convert prospects to accounts with 1 click
Enterprise features with mid-sized business costs
How do I access my Acumatica ERP?

Users access the system from a browser of their choice for each of the three deployment options.
What technology is my data base stored in?

Acumatica currently uses both MySQL and Microsoft SQL Server.
What languages does Acumatica Cloud ERP support?

Acumatica Cloud ERP supports the following languages:

Arabic, English, French, Japanese, Russian, Spanish
Does PC Bennett Solutions support mobile devices?

Our certified technology team knows how to optimize mobile business. Acumatica was built for mobile operations. We empower you to do business anywhere, anytime, from your mobile device.
Will Acumatica work for my business?

Acumatica is flexible and can be tailored to your needs. Acumatica's functionality includes financials, distribution, and manufacturing, CRM, project accounting and much more. After analyzing the unique needs of your business, PC Bennett will deliver a comprehensive solution with the functionality that will improve your business.
Acumatica Ebooks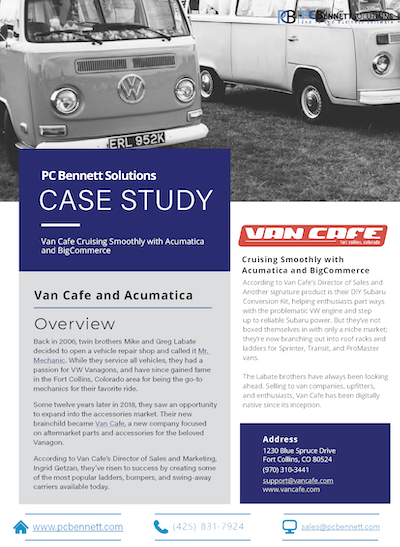 Van Cafe Case Study
Van Cafe originally built its eCommerce site on Volusion and ran day-to-day operations with QuickBooks. As the business grew, they began to run into limitations of the two offerings which prompted them to look for more capable solutions. Their search eventually led them to PC Bennett Solutions for our expertise in the automotive aftermarket sector.
---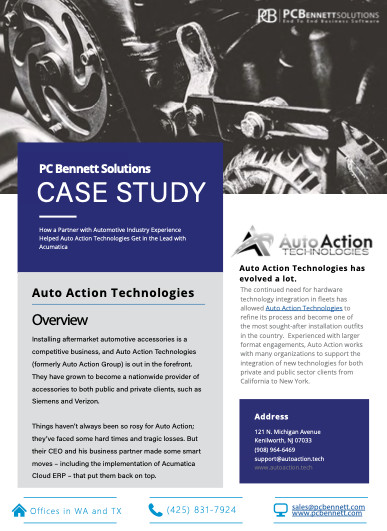 Auto Action Technologies Case Study
Installing aftermarket automotive accessories is a competitive business, and Auto Action Technologies (formerly Auto Action Group) is out in the forefront. They have grown to become a nationwide provider of accessories to both public and private clients, such as Siemens and Verizon.
Things haven't always been so rosy for Auto Action; they've faced some hard times and tragic losses. But their CEO and his business partner made some smart moves – including the implementation of Acumatica Cloud ERP – that put them back on top.
---