9 Ways Acumatica's Rapid Integrations Promote Digital Transformation Solution Brief
Learn 9 Ways Acumatica's Rapid Integrations Can Digitally Transform Your Business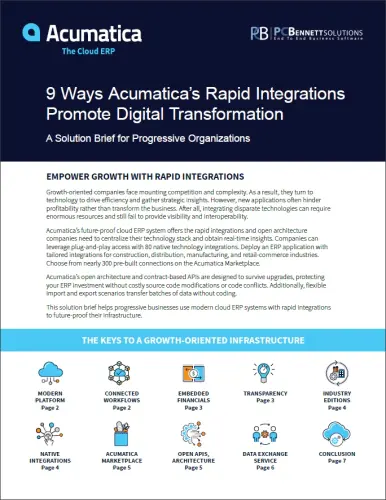 To remain competitive, organizations are attempting to streamline their operations through digital transformation. This digital transformation effort often involves investing in multiple, disconnected applications and devices that require complex integrations.
Unfortunately, these efforts often result in high costs and low success.
With Acumatica's open architecture and APIs, you can avoid this pitfall by taking advantage of seamless and rapid integrations.
In this solution brief, you'll learn how rapid integration can benefit your business, including:
Fostering innovation with a modern future-proof platform
Streamlining processes with connected workflows
Strengthening operations with robust, embedded financials
Delivering end-to-end transparency with a centralized tech stack
Providing best-in-class ERP services for any industry
Don't miss this opportunity to learn how you can successfully transform your business.
Download the solution brief today.