9 Ways Intelligent Reporting Increases Profitability
Personalized, Intelligent Reporting and Business Growth Go Hand-in-Hand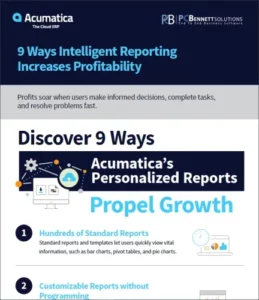 Profits soar when business leaders make informed decisions, complete tasks, and resolve problems fast.
However, business leaders can only make informed decisions when they have timely personalized and intelligent reporting.
Intelligent reporting comes in different forms – and Acumatica can provide them.
This infographic outlines 9 ways Acumatica helps businesses grow with:
Hundreds of standard reports
Customizable reports that don't require coding
Multi-dimensional reports
Scheduled and on-demand compliance reporting
Personalized dashboards with real-time status and KPIs
Don't miss this opportunity to learn how Acumatica and intelligent reporting can increase profitability for your company.
Download the infographic today.