Acumatica Cloud ERP Manufacturing Edition
A complete, multi-site cloud manufacturing control and planning system for make-to-stock, make-to-order, engineer-to-order, project centric, job shop, batch, and repetitive manufacturing.
Why Acumatica Cloud ERP Manufacturing Edition?
Acumatica Cloud ERP Manufacturing Edition integrates production planning and shop floor management with ERP so manufacturers have a complete view of their business. Manufacturers can easily manage production activities while also accessing customer management, sales orders, inventory, purchasing, accounting and financial reporting. Acumatica provides a web based interface so manufacturing teams can use mobile devices and scanning to capture material issues, move transactions, and redeploy labor resources.
Schedule My Demo
Acumatica Cloud ERP Manufacturing Edition is an ideal solution for:
Aerospace and Defense
Electronic Machinery and Components
Metals
Industrial Machinery and Equipment
Instruments and Related Products
Medical Devices
Transportation Equipment
Food and Beverage
Cosmetics
"I can say that the version of Macola that I was on, compared to Acumatica, it's night and day. You can't even compare the two. Acumatica is so much better. Just from a usability and flexibility and data extraction point of view.

Bob Bourriague

COO of Ubio Labs, Inc.

One Solution for Your Business
Acumatica provides feature-rich cloud manufacturing ERP software. Acumatica Manufacturing Edition extends Acumatica's Distribution Management, Customer Management, Financial Management, and Project Accounting suites. Acumatica Manufacturing Edition provides real-time coordination of your business activities from one central location, while cross-application integration allows you to have visibility across the entire business wherever you are.
Forecast demand while optimizing resources for effectiveness and cost control by planning with our manufacturing ERP software. Use Manufacturing Requirements Planning (MRP) and Advanced Planning and Scheduling (APS) to balance material requirements with production schedules.
Powerful and complete functionality for make-to-stock, make-to-order, engineer-to-order, project centric, job shop, batch, and repetitive manufacturing adapts to your business as you grow and change.
Exercise full control from engineering change request to engineering change order to engineering change notice with approvals throughout each step in the process.
Track material and labor costs as you manage your products. Compare standard and planned production costs to actual costs of production.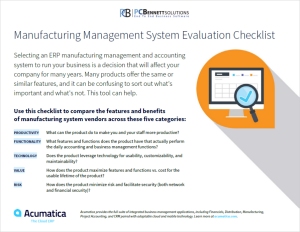 Evaluation Checklist
Review this insightful checklist to help determine the most important items manufacturers should consider in a new ERP system and to determine if Acumatica Cloud ERP Manufacturing Edition is right for your business.
Download Checklist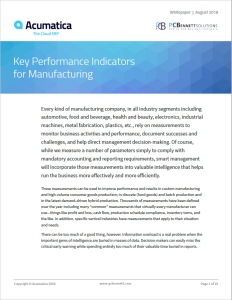 Does your manufacturing company monitor the right performance indicators?
In this informative white paper, learn about the Key Performance Indicators (KPIs) that manufacturing companies should monitor and see how Acumatica Cloud ERP Manufacturing Edition can easily provide them.
Download White Paper
Customer Interview: Danforth Pewter
Founded in 1975, but tracing its family roots in pewter manufacturing back to 1755, Danforth Pewter designs and crafts handmade pewter items. Danforth Pewter sells their pewter items online, in its six retail locations, and through wholesale accounts and kiosks. In this customer interview, the team at Danforth Pewter describes how PC Bennett Solutions and Acumatica Cloud ERP have been an ideal solution for their manufacturing business.
Originally, we were using QuickBooks, and, I mean, you can't even compare Acumatica to QuickBooks.

Bob Bourriague

COO at Ubio Labs, Inc.
Acumatica was by far the most robust Cloud ERP offering. It offers more functionality, better prices, and more value to the users.

Francisco Calligari

CIO at Guardian SealTech
Being able to see what's going on across our entire business in one snap-shot is invaluable. With Acumatica, our labor costs have gone down and our inventory control error rate have been reduced.

Bram Kleppner

CEO of Danforth Pewter
Acumatica has allowed us to be a better digital business. From Sales to Operations, from Admin to C-Level Executives, Acumatica allows us to have insights into data to make good decisions to grow our business in a powerful way.

Bryan Papé

Founder & CEO of MIIR
Our payroll requirements are unique, and a critical part of our buying decision was the ability to pay directly from an imported file vs manual data entry into the system. With payroll being time sensitive, this is a big plus.

Lilly Estrada

Human Resource & Payroll Mgr. | C&O Nursery
Flexibility in customization, unlimited users, support from our provider and access from any device were top reasons for our satisfaction.

Curt Norton

Controller | C&O Nursery
Game changer for us was the ability to set-up a Finished Good Item with its Bill of Materials, issue a Production PO, and issue several component level POs from various manufacturers that are all tied together. No more manual reconciliation.

Bob Bourriague

COO at Ubio Labs, Inc.
They (PC Bennett Solutions) just know Acumatica so well. Their depth of knowledge was great, and working with owner Patricia Bennett was the same; everyone has been so helpful.

Beth Morrisey

VP of Finance and IT | Danforth Pewter