Acumatica Customer Management
Acumatica Customer Management includes web-based customer relationship management (CRM) applications so you can manage leads, contacts, opportunities, and customer accounts
Acumatica Customer Management
Acumatica Customer Management for Acumatica Cloud ERP integrates sales, marketing, and customer service with your financials so you have seamless management of customer relationships. You can mange customer interactions such as leads, contacts, opportunities, and customer accounts. It also includes sales automation, integrated marketing, service automation, and a customer self service portal so you can build meaningful interactions and customer relationships.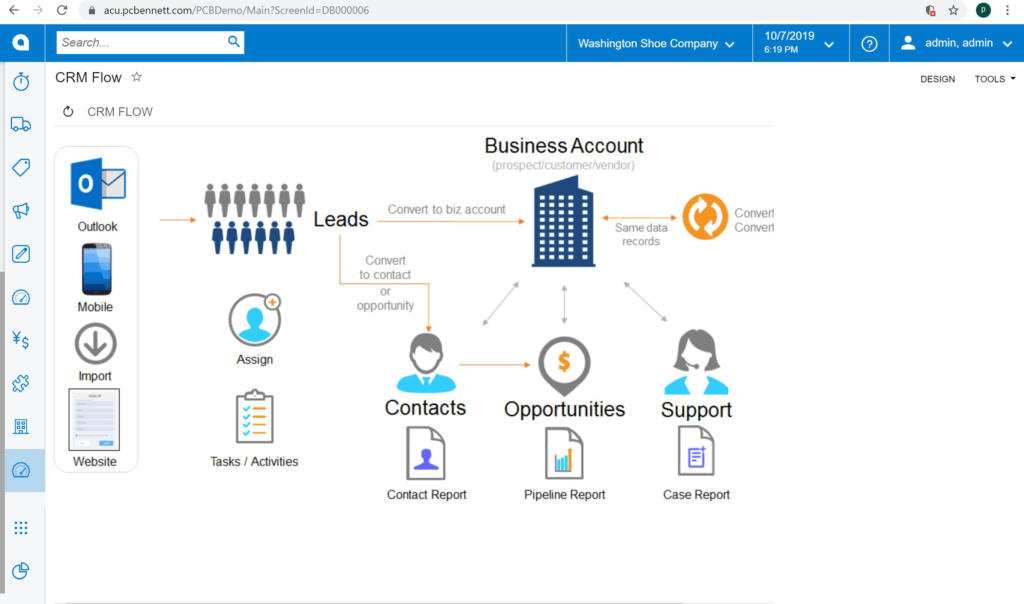 Manage customers & contacts from anywhere

View all your customer information in one place

Communicate through the customer portal
Customer Management provides a consolidated view of all customer contacts and interactions so you can better manage relationships. Dashboards and Reports display real-time sales data so you can better manage forecasts, quotas, and results. Acumatica is web based so authorized employees can manage leads, contacts, opportunities, and business accounts from any location. Furthermore, the Customer Management Suite includes the Acumatica Customer Portal so you can productively work and communicate with customers.
The application is simple and intuitive so it is easy to navigate. Users need only click an icon in the work space in order to access the corresponding solution.
Customer Portal Features
Financial Overview
Knowledge Base
Document Sharing
Customer Management Suite Features
Sales Automation
Integrated Marketing
Service and Support Automation
Some of the ways Acumatica Customer Management can help your company:
360-degree view

Customer Manager provides a complete view of your business so you can see financials, marketing, sales and service information. For instance, you can easily find customer buying history or view which customers are are profitable.
Empower your customers

Customers can access the Customer Self-Service Portal so they can view the account details or the status of service cases.
Team approach to sales and service

Customer Management makes it easy to share information so your organization can take a team approach to customer management. Additionally, Acumatica Customer Management has an unlimited user pricing model so all employees can fully participate in automated collaborative workflow processes.
Improve Customer Service

Customer Management provides full view of the entire sales cycle, from first contact to after-sale service requests, so you can quickly and easily respond to customer requests. Because Customer Management includes powerful sales tools that support complex sales processes. For example, you can create one or more quote for a single opportunity, or once a customer accepts an offer Customer Management can generate a sales order and invoice based on the quote.
CRM Add-In for Microsoft Outlook

Acumatica provides an add-in for Microsoft Outlook so you can record customer interactions from incoming and outgoing email. The add-in searches for existing leads, contacts, and employees in CRM and provides single-click access to an existing contact. You can also create new leads and contacts right from your Inbox, create opportunities and cases associated with existing contacts, and log activity and attach e-mail contents to CRM.
Real-time Synchronization with Salesforce

Acumatica Cloud ERP supports bi-directional real-time synchronization with Salesforce CRM so your team can work in both systems simultaneously. Employees can use predefined scenarios to export the following entities: leads, contacts, business accounts, opportunities, stock and non-stock items, and sales prices.
Track Campaign Expenses

Acumatica Project Accounting, an add on module can track revenue and expenses related to marketing campaigns.
Lead Metrics

Customer Management can display lead analysis and lead response time metrics so marketing personnel can view valuable response and sales data.
Why Choose Acumatica Customer Management?
Acumatica Customer Management Applications
Sales Automation
Integrated Marketing
Service and Support Automation
Customer Self-Service Portal