Manufacturing Metrics That Really Matter Playbook
Focus on the Metrics That Matter Most to Manufacturers
Tracking metrics to improve operations is nothing new for manufacturers, but they may be unknowingly sabotaging their efforts.
For example, this playbook suggests that "data issues, lack of strategic vision, missing benchmarks, and a focus on lagging indicators" all contribute to a lack of improvement.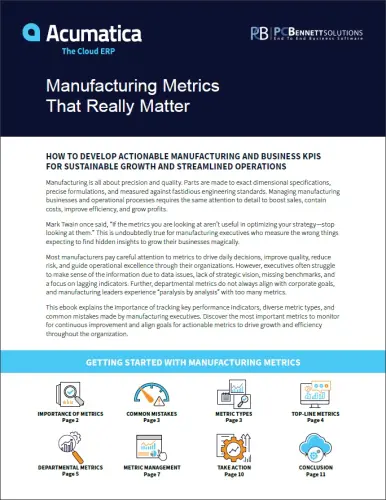 What's more, manufacturers often fail to improve because they focus on metrics that don't support corporate goals or too many metrics leading to "paralysis-by-analysis."
In this playbook, manufacturers will learn how to:
Improve operations with the right manufacturing metrics
Avoid common metric mistakes
Differentiate between metrics and determine which to follow
Align strategic corporate goals with departmental metrics
Select the technology needed to improve metrics management
Acumatica makes tracking manufacturing metrics easy.
Download this free playbook today and find out how.
Download your free copy of this eBook today.