The modern Cloud ERP solution for managing your entire automotive aftermarket business.
AutoFitmentPlus, Powered by Acumatica, is a new solution from PC Bennett that connects Acumatica Cloud ERP to Vehicle Classification Data, ACES, PIES, and VIN Validation and Identification data. It keeps your Fitment parts information up to date and provides a single comprehensive management solution.
With one system, automotive manufacturers and distributors can manage their financials, inventory, sales, procurement, logistics, and more – all while identifying parts and part application in an industry-standard way.
AND it's free when you purchase a new Acumatica system from PC Bennett Solutions!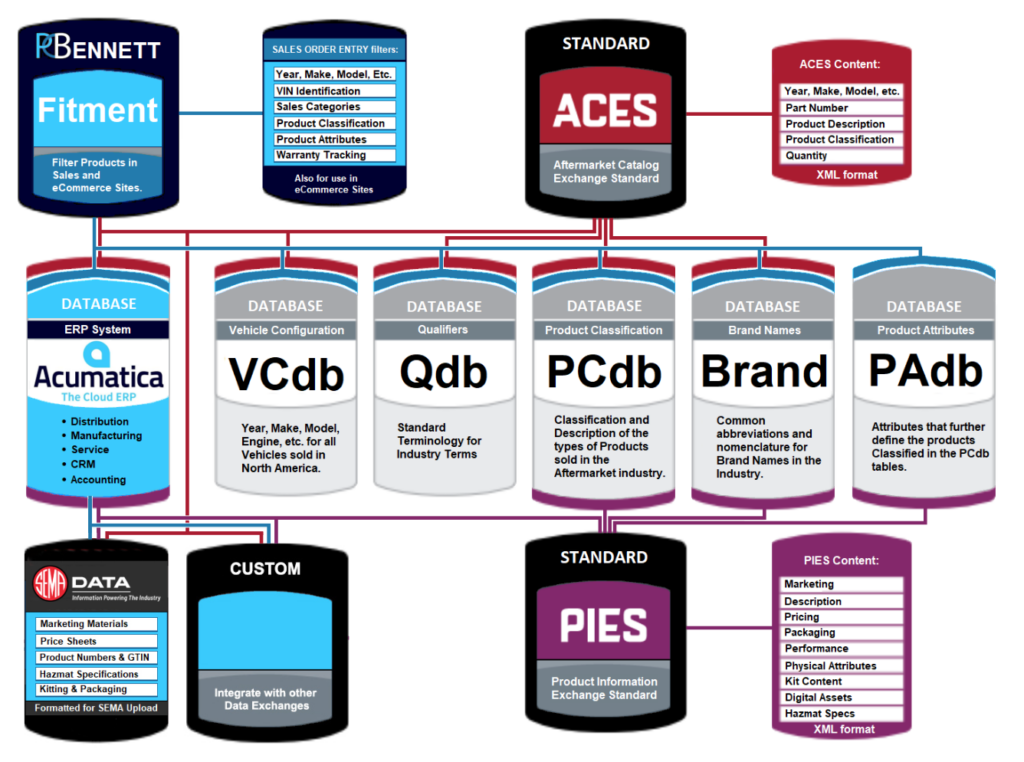 Benefits of AutoFitmentPlus by PC Bennett
Accurate Inventory and Inventory Details
Acumatica Cloud ERP provides real-time insight into inventory levels and inventory location. What's more, with AutoFitmentPlus, Powered by Acumatica, you can easily filter and identify the parts needed to meet your customer's needs.
Single System to Manage your Entire Business
AutoFitmentPlus, Powered by Acumatica, provides a single system to manage financials, inventory, sales (both customer-present and online), purchasing, and more. With AutoFitmentPlus, you also have access to industry standard resources to simplify parts lookup and inventory management.
Increase Efficiency
AutoFitmentPlus is fully integrated with popular automotive and catalog databases including SEMA, ACES, and PIES. No more time-consuming manual database updates, maintaining one-off spreadsheets, or searching for paper catalogs to reference. AutoFitmentPlus updates these databases regularly – and the updates are instantly reflected in Acumatica.
Increase Customer Satisfaction
Because you have a single solution for parts lookup, making sales, managing inventory, reviewing customer history and more – you can quickly and easily respond to customer inquiries. Additionally, with Fitment you can quickly identify options so customers can select the part they want or identify alternatives for their application.
Commerce Enabled ERP
Acumatica Cloud ERP goes beyond other eCommerce solutions to provide commerce-enabled ERP – meaning your web store is fully integrated with Acumatica. Changes to inventory and pricing in Acumatica are instantly reflected on your web store. What's more, because AutoFitmentPlus, Powered by Acumatica, is fully integrated, parts information is easily accessible over the web for a better customer shopping experience.
Manage Your Business Anytime, Anywhere
With Acumatica Cloud ERP, you can access your system from anywhere at anytime, so you always have access to the tools you need to provide service to customers.
Vehicle Classification Data (Year, Make, Model, Engine Type, etc.) which is maintained and cross- referenced against your Part SKUs so you can establish Fitment parts application.
Industry-standard 'ACES' (Aftermarket Catalog Exchange Standard) Vehicle Classification data automatically loaded into the Acumatica Cloud ERP database and updated automatically on regular intervals.
Industry-standard 'PIES' (Product Information Exchange Standard) Product Categorization data loaded into the Acumatica Cloud ERP database and automatically updated at regular intervals. PIES data is used to provide information about parts in an industry recognized manner, including attributes and other specifications.
VIN Validation and Identification so you can enter a 17-digit VIN number and AutoFitmentPlus, Powered by Acumatica, will identify the type of vehicle it represents.
Sales and Service performed on vehicles tracked by VIN, including warranties on parts and service.
On-demand Export of data in the ACES, PIES, or SEMA prescribed formats with no manual data manipulation or intervention on your part, providing you with seamless integration to your trading partners and the SEMA data cooperative.
What's more, AutoFitmentPlus, Powered by Acumatica, includes Fitment so you can easily filter available parts on Sales Orders, Service Orders, and even in eCommerce store fronts using the parts properties.