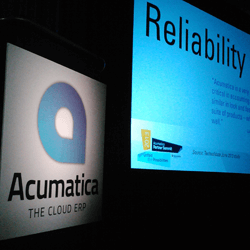 Acumatica 4.1 Cloud ERP
Learn more about the Acumatica 4.1 release
Lansdowne Resort in Leesburg, VA – just a few minutes away from Washington, DC – hummed with activity late Sunday night and all day Monday. Nearly 300 professionals representing 98 partners, 20 Independent Software Vendors (ISVs) from 12 countries, gathered there to celebrate the launch of Acumatica 4.1, "the best and most usable version of of Acumatica to date" according to Jean Gea, Product Marketing Manager. Partners will be training all week there – fully committed to the cutting edge Cloud ERP company that has grown by over 300% in 2013.
Acumatica 4.1, 5.0, and Beyond
The focus of the first day of the event was educating partners on exciting changes regarding pricing, partnerships, and product functionality. Partners were also introduced to the product roadmap to version 5.0 and the latest available 3rd party software integrations.
Learn more about the Acumatica 4.1 release
Acumatica CTO, Mike Chtchelkonogov spoke to the crowd about features coming soon to the product such as integrated business intelligence, simpler customization and integration, mobile application framework, Office 365 Integration, more streamlined implementation, and overall more functionality out of the box. The company's development team has significantly increased in size and has built up a lot of momentum over the last year. Testing processes have become much more efficient – reducing bugs and speeding up development time.
The Acumatica team is also focusing on continuing the progress they've already made in Acumatica University – the partner training program dedicated to establishing a strong community of salespeople, implementers, and developers.
Acumatica eCommerce
CurveCommerce
We had the pleasure of sitting through a fantastic live demonstration of an Acumatica eCommerce tool. "CurveCommerce has partnered with Acumatica to deliver a fully integrated ERP and eCommerce Platform. The CurveCommerce System incorporates all of the flexibility and functionality of Magento® eCommerce software with time-tested usability and state of the art marketing techniques. The result is a user-friendly website framework which generates superior sales performance and outstanding conversion rates while seamlessly passing information quickly and securely between Acumatica and the website."
Retail Management System with Acumatica
FusionRMS
Another application we got to see in action was FusionRMS. Like many of the ISV products, this RMS seemlessly integrates with Acumatica. That is, a user will never even see where Acumatica ends and the ISV product begins. The client installed POS does have a different feel, but is said to be redesigned to fit the Acumatica style in the future. "Fusion Integrated Software application suite includes retail applications: point of sale, customer service, call center, scheduling, etc. Restaurant applications address the need of both counter sales as well as sit down dining. Wholesale / distribution applications include high volume order entry and warehouse management complete with Fedex / UPS integration."
Services Management Module for Acumatica
M5
We were blown away by the functionality of this application. It was good to see that it was fully embedded in the Acumatica UI. M5 also shared with us their SCRUM development process.
"M5 software brings over 20 years in accounting and ERP software implementation and customization, IT consulting and development. The backgrounds of M5 Software key staff include Industrial Engineers, CPAs, CMAs, Senior Developers and Consultants.
This depth of management and operations knowledge, coupled with software-implementation expertise, results in the best-practices approach to give your business a real top-quality and versatile solution."