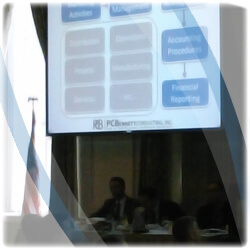 Seattle, WA February 28th, 2013 – PC Bennett Solutions is experiencing rapid growth since their mid-2012 partnership with Acumatica, a promising new player in the Enterprise Resource Planning (ERP) software industry. Currently, PC Bennett is the only Acumatica partner in the Northwest.
Patricia Bennett, founder of PC Bennett Solutions addressed her network at the Seattle Executives Association on February 27th to build awareness of the functionality of the Acumatica system. Mrs. Bennett reported substantial growth of the PC Bennett Solutions team, plans of expanding the workspace at the company's North Bend office, and a recent re-launch of the company website to reflect their new product shift.
Now, in addition to selling, implementing, and supporting Microsoft Dynamics GP and CRM and other products, PC Bennett Solutions includes Acumatica's cloud-based ERP solution in their versatile product offering. The company has increased its team of professionals by nearly 100% in the last six months due to increased sales and plans for continued growth stemming from Acumatica 4.0 which is scheduled to be released on March 5th.
"Acumatica sells itself", stated Ms. Bennett. "We are thrilled to be a partner of this powerful business management system. It allows us to serve other businesses with a level of functionality and flexibility that cannot be found in any other ERP system."
"Presenting Acumatica to prospects is interesting, in that, they are often surprised by the number of features that are available readily right out of the box" said Art Olsen, Systems Architect.
Business leaders interested in learning more about services offered at PC Bennett Solutions or the functionality of Acumatica, contact us.
PC Bennett Solutions has been providing business management software solutions to businesses since 2002. Their mission is to provide end-to-end system evaluation, implementation, support, and customization solutions to small and midsize businesses in various industries.
Jordan Lamborn, Marketing and Sales Coordinator
PC Bennett Solutions
425-831-7924