The Cost of Inaccurate Fitment Data
How many times have you had a customer order the wrong part?  It sounds like a small thing.  But if your order department is relying on paper catalogs or is looking up parts on multiple websites, not only are they spending more time taking orders, but you run a bigger risk of selling incompatible parts to your customers. At the least, it disappoints the customer and results in costly returns. At the worst, it can cost you their business.
As you know, managing your fitment information is an ongoing process. Vehicle standards change often. Without an integrated solution, you are left to manually maintain your database. Not only is it a huge task, but it is prone to errors and creates a lag in accurate data, paving the way for a bad customer experience.
Customers Don't Realize They Can Search by More Than Brand
Additionally, customers often search for parts by brand, not realizing that there can be parts that fit multiple brands of vehicles. With an integrated fitment lookup that connects to your web store, you can educate your customers on how to search and serve up more compatible options. This will keep them on your site, buying parts from you instead of your competition.
Our fitment solution allows you to quickly and easily look up fitment data by year, make, model, and other filters like trim and engine type. It can be linked to ACES (Aftermarket Catalog Exchange Standard), as well. And did we mention that it connects to shopping cart?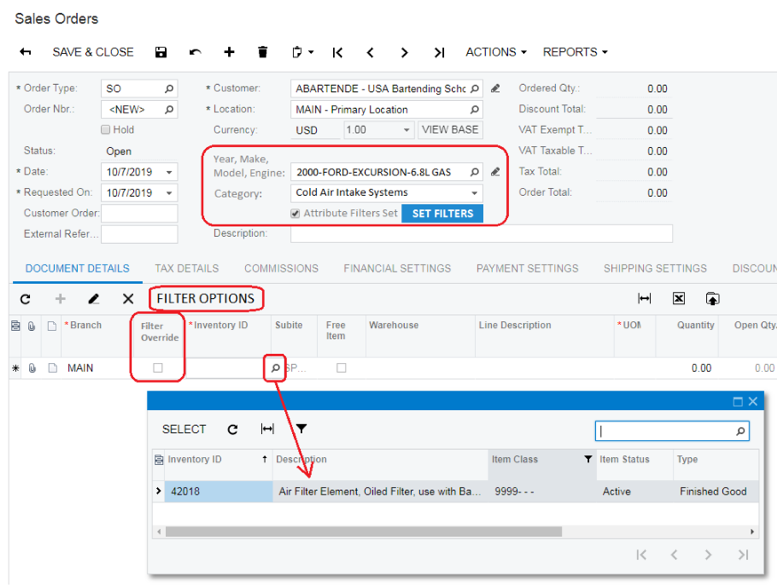 You can also quickly create new items with images, color options, finishes, descriptions, specs and manufacturer's data with just a few clicks. This will integrate to your shopping cart.
How Good is Our Fitment Solution?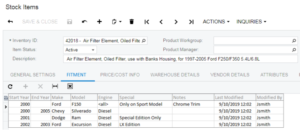 We were demoing the software to a prospective customer last week. You know how those go, you can read the room, even if it is virtual, and feel how interested the audience is. We sensed that they were going through the motions, and hoping to get this final bit of research done so they could go with another product (for whatever reason). That is, until we showed them our fitment feature. Suddenly the energy of the room changed and the engagement level shot up. They were asking questions left and right and wanted to see more of the screens and options. They chose our solution over the rest.
Why Did We Focus on Fitment?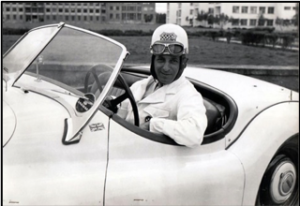 We have a passion for classic cars, fast cars and the racing industry. This love of cars and racing started with my father and it continues with me, my brother and my son. It's one of the reasons people choose us over anyone else. It's why we find it easy and actually fun to help automotive aftermarket industry. It's why we're continually updating and improving our solution to make sure it provides everything our clients need.
Get to know us a little better…peruse our gallery of photos, and lots of other handy resources on our Acumatica Cloud ERP Automotive page.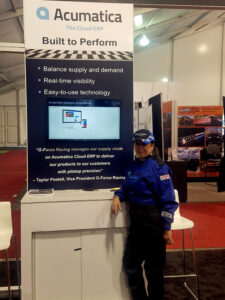 Stop "Getting By" with an Outdated Fitment Process
And start using a solution that eliminates errors and takes guesswork out of fitting parts to vehicles. A solution that won't cost a fortune, take forever to deploy, or be hard to use. A solution that:
Helps sell the right part
Reduces research time
Improves customer service
Drives up repeat business
Eliminates silos of information
Take a tour of our fitment module, and let us know what you think!