Automotive Supply Chain Management
Acumatica Cloud ERP is a fully integrated system that provides real-time access to parts inventory and the tools needed to manage even the most complex supply chains.
Why Acumatica Cloud ERP for Automotive Parts Supply Chain Management?
Managing the supply chain is critical to the success of every Automotive Parts Manufacturing and Automotive Parts Distribution business. The Acumatica Distribution Edition, includes the tools needed to manage the supply chain end-to-end, including requisition management, parts and raw materials purchasing, warehouse and inventory management, and product fulfillment.
Because Acumatica is a complete and fully integrated system, it provides you with real-time inventory status so you can make the best decisions when purchasing or managing parts.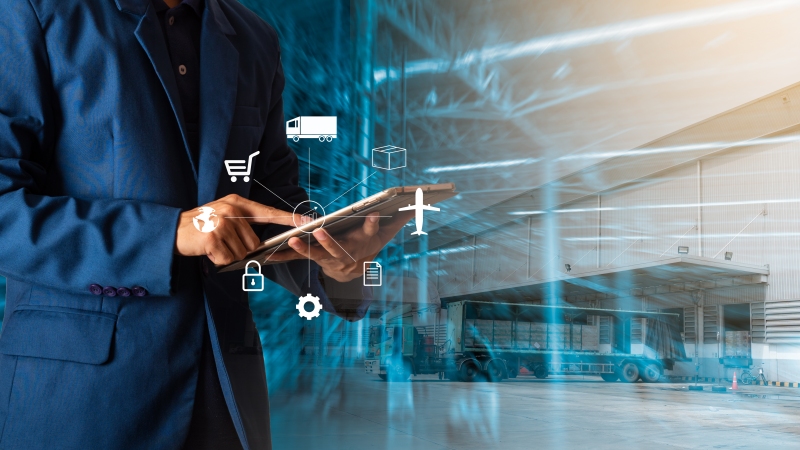 Acumatica Cloud ERP Distribution Edition Offers Powerful Supply Chain Solutions for Automotive Parts Distributors and Manufacturers
Acumatica Cloud ERP includes tools needed to manage simple to complex supply chains. With additional tools like multi-currency or advanced inventory management, you can mange international suppliers and easily sell into international markets. What's more, Acumatica Cloud ERP also has additional tools for advanced inventory management so you can identify inventory trends and reduce "stock-out" situations.
Requisition Management
Organize and simplify complex distribution processes involving multiple products and suppliers. Optimize the way you gather requests, obtain bids, create quotes, approve quotes, manage purchases, and fulfill orders for internal or customer needs.
Advanced Inventory
Gain real-time access to available inventory, inventory in transit, reorder quantities, and inventory costs. Efficiently manage your distribution process to improve customer satisfaction while maximizing profit. Manage multiple warehouses, lots, inventory sub-items, expiration dates, and bin locations.
Sales Order Management
Optimize sales order entry and fulfillment. Split orders across multiple warehouses, allocate inventory, verify credit limits, issue replenishment orders, accept returns, and more. Improve processes and avoid delays through integrated workflow with notifications and alerts.
Purchase Order Management
Reduce costs and improve vendor relationships by automating and centrally managing your global purchasing processes. Acumatica's online sourcing automates the entire procurement process from vendor quotes to paying invoices.
Warehouse Management
Streamline distribution processes with advanced warehouse operations in receiving, inventory management and order fulfillment. Improve customer satisfaction and reduce costs with barcode scanners on phones and tablets.
Here are just some of the ways a Acumatica helps manage your automotive parts supply chain:

Requisition Management Features

Purchasing Integration

Automatically create purchase orders in the purchase order module from approved requisitions.

Predefined Request Lists

Limit requests to a specific list of inventory items by user.

Hide Inventory Items

Optionally hide your product catalog from users, requiring manual item entry.

Collect and Organize Requests

Bundle requests from multiple sources in a single requisition. Create approval rules based on quantity, request amount and more.

Request Classes

Set requisition defaults by request class to simplify data entry and reduce errors. Limit selection to a specific list of items, create customer only requests, hide vendor information, hide inventory catalog information, allow multiple vendors per request, and set promised lead times.

Create Customer Quotes

Create customer quotes to offer a price to customers for requested goods.

Sales Order Integration

Turn an approved quote into a sales order from with one click. Sales orders are managed by the rules within the sales order module and linked to the requisition for easy access.

Complete Integration

The Requisition Management module integrates with purchasing, order management, inventory management, and all financial modules to automate all processes, eliminate duplicate data entry, and properly account for all transactions.

Audit Trail

Automatically create a complete audit trail of all transactions, including user IDs of who entered and approved the transaction, and any user who modified the record. Optional notes and attached electronic documents remain with the activity records.
Purchase Order Management Features

Drop Shipments

Create drop shipment orders for items to be delivered directly to a customer location, automatically from sales orders or linked manually. Automatically release sales order and invoice when purchase receipt is vouchered.

Landed Cost Functionality

Include additional shipping and handling costs with purchased items, capturing them by line item and cost code. Allocate costs using custom allocation methods. Directly enter landed cost bills in Accounts Payable and associated them with received items. Landed costs are automatically included in the inventory costs for stocked items.

Vendor Selection and Performance Analysis

Upload vendor price lists with product descriptions, prices, and delivery times. Map uploaded items to existing inventory or create new items. Update cost, quantities, and lead times each time inventory is received. Review prices from multiple vendors for a purchase order. Retain statistical information for replenishment calculations and vendor performance.

Reporting and Drill Down

Analyze and manage your purchasing experience through a complete set of inquiry screens and auditing reports with drill down to the original transactions.

Audit Trail

Maintain a thorough audit trail of all purchasing transactions including identity of the users who entered and approved transactions. Notes and supporting electronic documents can be attached directly to transactions.

Simplified Item Tracking

Cross-reference multiple item identifications among suppliers and your system. Automatically assign serial and lot numbers when receiving purchase orders.

Automatic Payment Vouchers

Automatically create accounts payable vouchers when goods are received. Multiple receipts can be consolidated into a single voucher and multiple bills can be entered for a single receipt. Also, add one or more prepayment requests to purchase orders, as well as allow purchase orders to be added to prepayment documents.
Advanced Inventory Management Features

Lot and Serial Numbering

Track inventory by lot or serial number. Assign or enter lot/serial numbers on receipt, issue, or assembly. Associate item specific valuation methods to serial numbers to track specific costs.

Expiration Dates

Expired items can be automatically identified for removal from available inventory. Acumatica can automatically issue items with the earliest expiration date to minimize losses.

Transaction Reason Codes

Measure trends and spot problems by assigning reason codes to inventory transactions. Reason codes can be linked to both GL accounts and inventory levels for financial and operational reporting.

Two-Step Transfers

Inventory transfers are done in two steps so you can track goods in transit between locations – with GL entries into and out of an "in transit" account.

Inventory Bin/Location Control

Specify the types of items and transactions allowed, wave or batch picking priority, and cost by bin and location.

Inventory Replenishment Suggestions

Lower your inventory with system-generated replenishment recommendations based on historical sales data analysis.

Inventory Sub-Items

Simplify reporting and tracking by separating items into sub-categories such as size, color, and style. Associate separate cost and quality information with each sub-item.

Purchase Order Automation

Automatically generate purchase orders based on stock level and replenishment algorithms. Orders go to the vendor with the best price and delivery time.

Sales Order Discounts and Promotions

Manage complex pricing and discount policies including volume discounts and multiple discounts per item. Maintain policies for price overrides.

CRM Integration

Convert CRM opportunities to sales orders without re-entering pricing and discount information. Customer service can easily locate orders to verify shipping and delivery status.

Item Class Hierarchy

Create item classes using a tree-like hierarchy with parent-child relationships and define the default class for stock and non-stock items.
Warehouse Management Features

Pick

Generate pick lists and packing slips, including wave and batch picking and bulk processing. Auto group items and shipments, calculate the best path for each picker, and split the wave or batch worksheet into separate pick lists for the available pickers.
Use barcodes to speed up picking process
Barcodes on pick lists prevent picking items not included in the order.

Pack

Provide adequate package size and packing material to ensure safe transport.
Support barcodes and lot/serial numbers to ensure accurate order completion.
Easily correct errors in amount, weight, items, and so on.
Integrate with digital scale and printer to automatically weigh and print labels and packing slips.

Ship

Select shipping provider: UPS, USPS, and FedEx, as well as international carriers with ShipEngine
Ensure prompt pickup through your preferred carrier.
Automate shipment label generation
Set up automatic tracking on all shipments.
Notify customers of shipment progress through each stage of order fulfillment.
Sales Order Management Features

CRM Integration

Convert CRM opportunities to sales orders without re-entering item, pricing and discount information. Easily locate customer orders to verify delivery status. Associate tasks and activity history with each order.

Purchasing Integration

Link sales orders with purchase orders and allocate received items to orders. Automatically generate purchase orders or manually link them. Auto-hold sales orders until the purchase order is received. Drop shipment is also supported.

Multiple and Partial Dispatching

Fill a sales order from more than one warehouse. Split a sales order into multiple shipments from different warehouses based on availability and costs. Track partial ship order balance and manage back order delivery.

Shipment Schedule

Specify a different delivery date for each line item on a sales order. Generate shipment orders according to delivery schedule and item availability.

Pick List and Replenishment Orders

Generate wave and batch pick lists according to item availability and the pick priority for each warehouse location. Auto-search other warehouses, issue replenishment orders, and place the sales order on hold until the replenishment arrives.

Inventory Allocation

Configure the inventory allocation rules for each step of sales process. Warn user when inventory is over-allocated or unavailable. The system will warn the user when a discrepancy occurs between the invoice ship date and inventory transaction.

Credit Limit Verification

Auto credit check during order processing (prior to release). Auto release credit hold when payment is entered or order amount decreased. Manual hold override is available to authorized users.

Invoice Consolidation

Consolidate Multiple Shipment orders onto a single invoice – automatically or manually. Optionally update price and discount information on review before printing the invoice and updating accounts receivable.

RMA and Reason Codes

Manage returns with RMA (return merchandise authorization) functionality including reason codes. Process RMA orders as a credit or as a replacement of damaged goods.