Acumatica Cloud ERP Distribution Edition
Automate processes and reduce errors in purchasing, order fulfillment, inventory tracking, and customer support with distribution management software from Acumatica.
Why Acumatica Cloud ERP Distribution Edition?
Acumatica Cloud ERP Distribution Edition provides the tools wholesale distributors need to respond to evolving industry pressures and customer needs. With the Distribution Edition, distributors can easily manage sales orders, track inventory, fill orders, improve purchasing, and provide customer support from anywhere.
The Distribution Edition is integrated with all other Acumatica Cloud ERP modules such as accounting and financial management, customer relationship management (CRM), document management, and workflow. Additionally, you can add e-commerce and Point of Sale to provide your customers with a powerful omnichannel experience. With complete control over implementation, distributors can choose to have it hosted, deploy it it on a private cloud server, or even on a local on-site server.
"Black Friday weekend, we had over 3,000 Purchase Orders when we came in on Monday morning. In the old days, that would have been a lot of work to process those. With Acumatica, we could release all 3,000 Purchase Orders in maybe an hour to our warehouse and ship all of that product out. We could also ship-confirm everything automatically. That's a big deal.

Bob Bourriague

COO of Ubio Labs, Inc.

Improve Customer Satisfaction and Minimize Costs
Efficiently manage distribution processes with real-time visibility into available inventory, inventory in transit, reorder quantities, and inventory costs. Minimize inventory and costs; optimize quoting, acceptance, order entry, and fulfillment processes.
Determine real-time profitability by warehouse, product line, location, or business unit. Use real-time information to control costs across the entire supply and distribution chain.
Eliminate delays through automated sales order processing and shipping order generation. Set rules to manage multiple warehouses, returns, credit limits, drop shipments, and more.
Know the Status of your Business
Ensure a steady supply of materials by optimizing and automating your purchasing process.
Grow Sales and Optimize Inventory
Embedded CRM with marketing automation and help increase sales with a 360-degree view of customers through the entire sales cycle. Minimize inventory carrying costs and improve inventory turns for increased profits. Integrated commerce, customer self-service portals, and anytime access to Acumatica improves customer service from the office, home, or on the road without losing business continuity.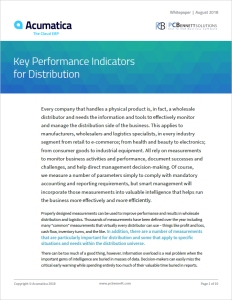 Does your distribution company monitor the right performance indicators?
In this informative white paper, learn about the Key Performance Indicators (KPIs) that distribution companies should monitor and see how Acumatica Cloud ERP Distribution Edition can easily provide them.
Download White Paper
What Customers Say About PC Bennett