It's Easy to Create Your Own Dashboards for Acumatica – Learn More
Unique in the ERP world, Acumatica Cloud ERP delivers the impressive capabilities to 100% customize your setup easily and quickly. One of the most noticeable and effective ways to do this is to customize your home screen dashboards.
In this handy "How To" webinar, you'll learn the full, end-to-end process of creating your own custom Generic Inquiries and dashboards for Acumatica. It's easy! Watch the webinar now.
Video Summary – Skip Forward to the Parts that Matter to You!
In this video, PC Bennett's award-winning Acumatica expert Tim O'Sullivan walks you through the step-by-step processes you can take to create a custom Generic Inquiry and then use that to create a series of dashboards. Feel free to skip forward to the parts that matter most to you.
Introduction to Generic Inquiries and Dashboards for Acumatica
In this section, you'll learn what Generic Inquiries are and gain a quick overview of how easily you can control your homepage view to display your relevant dashboards in Acumatica. You'll also find out about a great Acumatica e-learning resource, discover which permissions you'll need to enable to get started, and learn how to get into Edit mode.
Step 1: Creating the Generic Inquiry Output to Use with a Dashboard
Before you can create a dashboard for Acumatica, you'll need to collect the data that the dashboard draws from. That data will be housed in a relational database that Acumatica refers to as a Generic Inquiry table. (If you've used Microsoft Access, this is similar – but much better.)
After watching this in-depth section, you'll understand the function and use for every tab on the Generic Inquiry screen, and you'll also have some power-user tricks under your belt that will speed up your Acumatica usage significantly.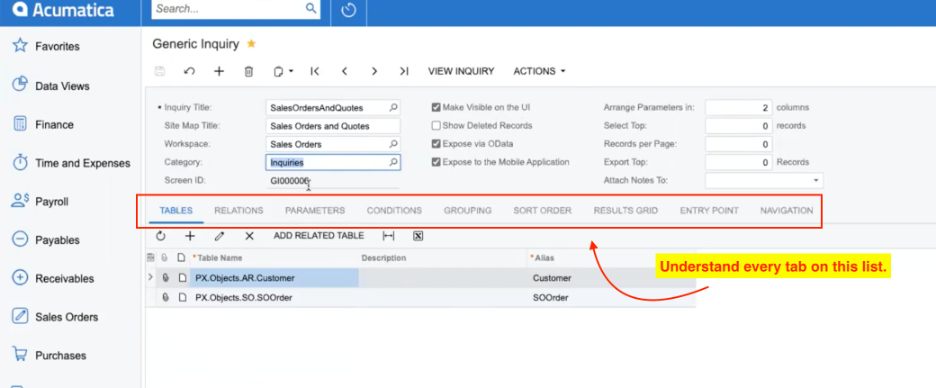 The Tables and Relations Tabs
Acumatica makes it fast and easy to set up relational databases with multiple layers of tables. Since the Tables tab and Relations tab are used in tandem, this section covers both tabs.
The Parameters Tab
Once you have your table relations database set up, you will want the ability to filter the information that you see in your results list. Parameters are the top-level filtering capabilities that empower you to slice and dice your data results.
The Conditions Tab
This tab sets the underlying rules for your tables and database, using "If-Then" logic to control how the data is selected and displayed in Generic Inquiries and dashboards for Acumatica.
The Grouping Tab
The Grouping function allows you to include summaries on your Generic Inquiries. This is best used with pivot tables.
The Sort Order Tab
Sort Order controls how your database output will display when you're looking at it. This helps organize your view, so you can quickly make sense of the data at a glance.
The Results Grid Tab
The Results Grid determines where your databases will pull information from and which data you wish to include in your Generic Inquiry report output. It also helps you quickly activate / deactivate data as well as show / hide data. The Results Grid is very important to understand because this is the biggest factor in controlling your Generic Inquiry output view.
The Entry Point Tab
Entry Point handles mass updates to your databases. Since it is an advanced function with little-to-no room for error, this webinar does not cover this topic in depth. Feel free to request a future webinar on this topic if you would like to learn more!
The Navigation Tab
This tab controls additional view options for your Generic Inquiry outputs, such as the handy side panel data drilldown shown below, on the right.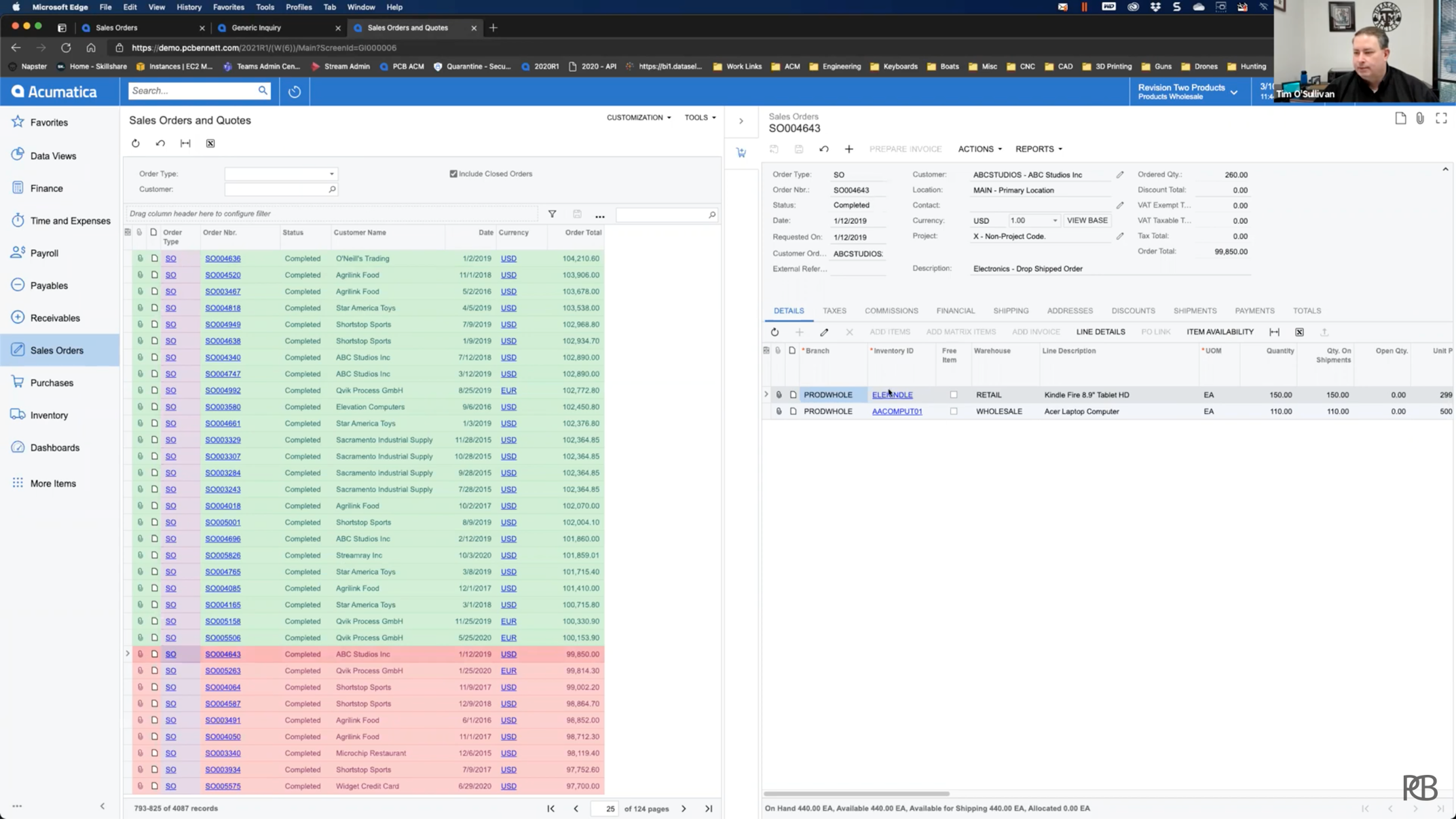 Step 2: Creating a Dashboard from Your Generic Inquiry
Once you've gone through the work of setting up the database in your Generic Inquiry, it is easy to set up a range of dashboards from scratch to elegantly display that information on your home screen.
Final Notes
As you can see, there is a lot to learn from this in-depth webinar from PC Bennett. The Question & Answer sectionalso has a wide range of great additional information.
If you liked this webinar and you want to watch more great, in-depth How To videos that will help you become an Acumatica master user, check out our videos page. Don't forget to register for upcoming webinars too!
PC Bennett Solutions offers a personalized, full-service experience for customers by implementing business management technology. Through a hands-on approach, PC Bennett Solutions helps companies get the most out of their software system. The team provides training, implementation and customization of Acumatica. Headquartered in the Seattle area, PC Bennett Solutions is one of the largest exclusive Acumatica resellers. For more information, visit www.pcbennett.com.