Not Sure How to Take Advantage of Corporate Credit Cards in Acumatica? Find Out!
Acumatica 2019 R2 introduced the ability to use corporate credit cards to pay expenses, and this exciting advance has given busy manufacturing and distribution businesses a lot more time and freedom with expense processing. Well, actually… it's given more time to the businesses who have figured out how to use this functionality on their own.
Setting up and using corporate credit cards in Acumatica isn't an intuitive process, but the award-winning experts at PC Bennett are here to help you confidently start using this great tool, right now. In this brief "How To" webinar, you'll learn the steps to take to set up corporate credit cards, how to process these transactions, and novel ways to input and reconcile data using great new Acumatica functionality. Watch the webinar now.
Video Summary – Skip Forward to the Parts that Matter to You!
In this video, 6-time Acumatica MVP award winner Patricia Bennett walks you through every step you need to follow to set up and process expenses with corporate credit cards. Feel free to skip forward to the parts that matter most to you.
How to Set Up Corporate Credit Cards in Acumatica
Setting up corporate credit cards in your Acumatica Cloud ERP requires that you create a number of new accounts and payment methods and then link them all together. Figuring this out on your own may take you hours, but with clear instructions from Patricia, you can complete this process in less than 5 minutes.
Follow along from the very beginning of this process, or reference them one by one:
Set up your Liability Account in your Chart of Accounts (watch)
Create a Payment Method (watch)
Tip: Learn which checkbox you SHOULDN'T click during this process (watch)
Create the Cash Account (watch)
Tip: If you're using multicurrency, specify the currency in these two places (watch)
Associate the Payment Method with the Cash Account (watch)
Create the corporate credit card and assign authorized users to it (watch)
See how easy that was? Now it is time to enter transactions.
How to Enter Expense Transactions Using the Acumatica Mobile App
Introduced in Acumatica 2020 R1, the machine learning feature for automated expense capture from receipts can be a huge time saver for your company. Cutting-edge features like this are what place Acumatica at the head of the ERP pack.
In this section of the video, Patricia uses a real-life example to demonstrate how to scan a receipt using your phone, how to edit expense fields, how to assign expenses to a project, and how to change the account associated with each expense. Of course, after a receipt is entered, it will show up instantly on any device. Watch this process.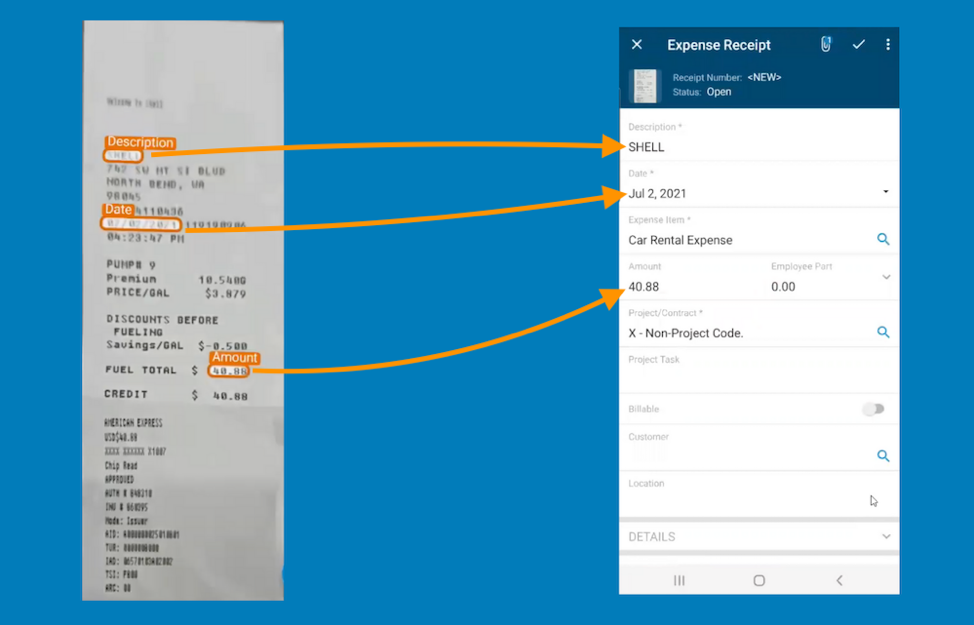 How to Claim an Expense
Claiming an expense (AKA processing an expense transaction) entered into Acumatica is easy and fast to do. See how to claim an expense from corporate credit cards in Acumatica. (watch)
Tip: When you use credit cards, you will LOSE the ability to track transactions by vendor. Fortunately, there is a way to overcome this challenge. (watch)
How to Use Bank Feeds for Expense Data Entry
Many organizations do not know this, but there is a new add-on module for Acumatica that empowers you to perform continuous transaction uploads directly from your bank account into your Acumatica ERP. You can use this functionality with savings accounts, checking accounts, credit cards, and more.
With continuous uploads from your accounts into your Acumatica system, you can skip the process of expense entry entirely and simply focus on review and approval. If your company has a large number of expenses to process, this could make a huge difference in the time you spend on this task each month.
See how to create a Bank Feed and set up your upload rules (watch)
Learn how to specify expense item classifications, such as Travel and Meals (watch)
Tip: Not sure how to set up the categories for expense classifications? Follow along and see how to create your own custom classifications for your expense transactions. (watch)
How to Reconcile Accounts Using Bank Feeds
Using the "Auto-Match" feature in Bank Feeds, your business can automatically match transactions during your reconciliation process – or you can manually match each transaction as usual. (watch)
Q&A
One of the most important questions asked during the Q&A session regarded 1099s and corporate credit cards in Acumatica. If you were wondering if credit card vendor payments are included in the 1099 for vendor, you can rest assured that the answer is YES!
See how to apply corporate credit card payments to 1099s in Acumatica (watch)
Final Notes
As you can see, there is a lot to learn from this great webinar from PC Bennett.
If you liked this webinar and you want to watch more in-depth "How To" videos that will help you become an Acumatica master user, check out our videos page. Don't forget to register for upcoming webinars too!
PC Bennett Solutions offers a personalized, full-service experience for customers by implementing business management technology. Through a hands-on approach, PC Bennett Solutions helps companies get the most out of their software system. The team provides training, implementation and customization of Acumatica. Headquartered in the Seattle area, PC Bennett Solutions is one of the largest exclusive Acumatica resellers. For more information, visit www.pcbennett.com.