The automotive industry has joined forces with advanced technology, bringing ideas to life in vehicles to make them safer and more comfortable. Just like cell phones can do more than make calls, cars can do more than drive and park. Cars are becoming smarter and more entertaining with technology too. It's predicted in the future, the automotive industry is expected to progress even further, taking us one step closer to more connected and digitized environment.
These technological advances are standard in most new vehicles, but many people are also wanting to add these great features to their current vehicles. SEMA's market research predicts the Automotive Aftermarket Parts product line growing.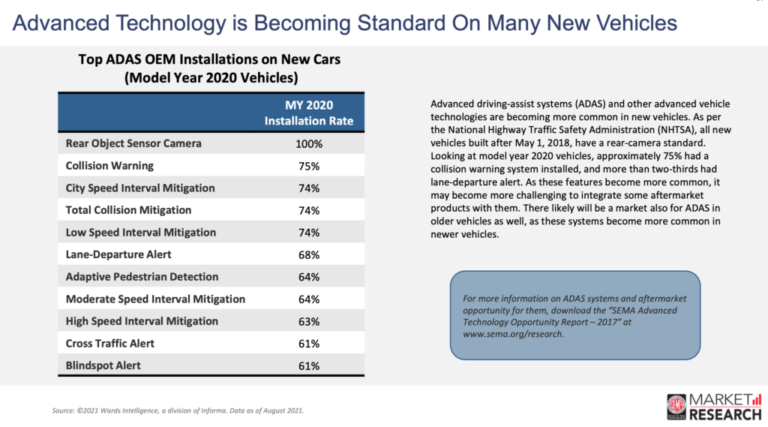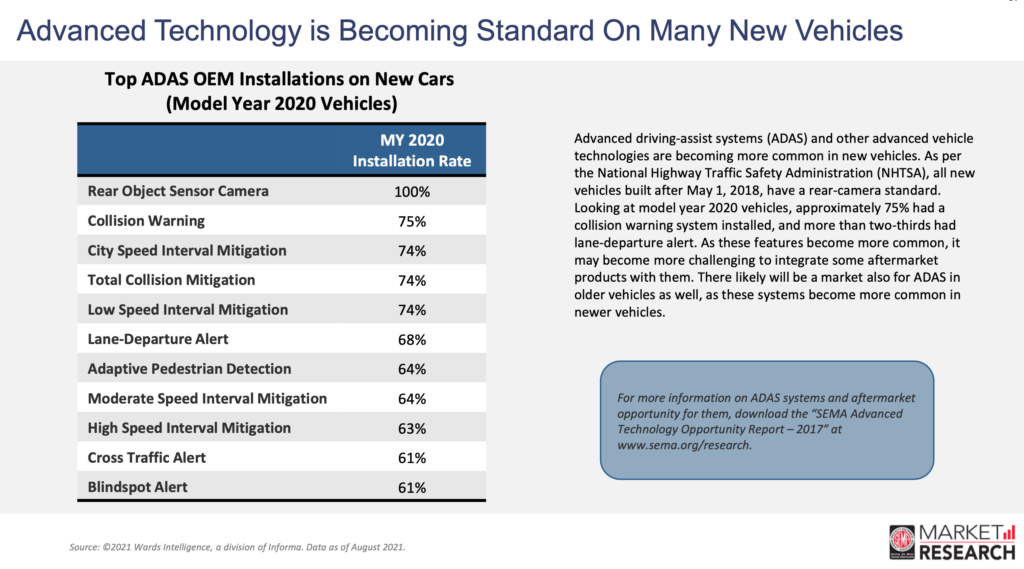 There likely will be a market also for ADAS in older vehicles as well,
as these systems become more common in newer vehicles.
Automotive Technology Advancements:
Advanced Driver Assistance Systems
This is a category of systems that can ensure that you know when a vehicle is in your blind spot, can keep you a safe distance from the car in front of you, and can keep your vehicle from drifting into another lane. One of the first examples of an Advanced Driver Assistance System (ADAS) was anti-lock brakes. These are now standard equipment on every new car. In modern vehicles, there are now dozens of these systems. Adaptive cruise control, blind-spot alert, cross-traffic alerts, forward collision warning, lane departure warning, lane keep assist, reverse brake assist.
Automatic Emergency Braking
When the car senses that a collision is imminent, AEB activates your car's brakes, potentially avoiding or minimizing an accident. AEB can react faster than a person and can start working before you hit the brakes. If you are braking and it senses you need to stop sooner, AEB can also brake harder than the pressure you're applying. While AEB is part of many advanced driver assist systems, this is an essential system that may be a standalone feature, and it should be considered a high priority. According to the National Highway Traffic Safety Administration (NHTSA), automakers are part of a voluntary effort to have AEB plus forward collision warning in nearly all new passenger vehicles by August 31, 2023. Several automakers already have these systems as standard equipment.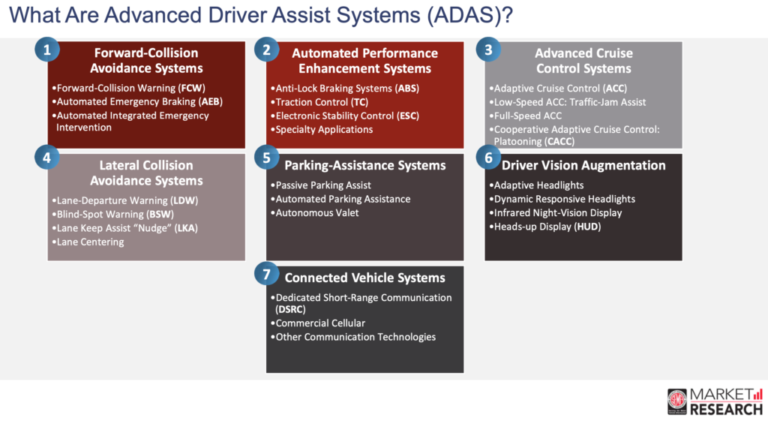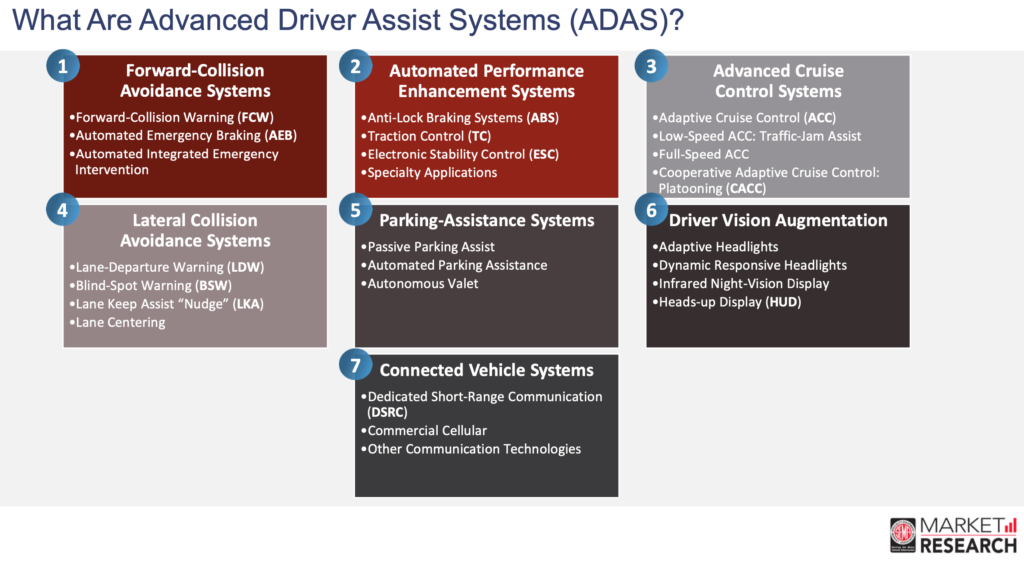 Connected Mobile Apps/Digital Keys
Cell phones are a huge part of our lives. Some automakers understand how important our phones are to us — so why not make cell phones an easy way to use your car's features? Almost every car company has an app you can download for your car. Some are better than others, but the most advanced ones let you remotely lock and unlock the doors, check the status of fuel level and tire pressure, and even remotely start the car – which is especially nice on a cold winter's morning.
These apps can also display key maintenance features, such as how much gas you have left, or range in an EV. You can also use these apps to find the nearest dealership, gas station, or charge station. You can even use some of these apps to set up scheduled maintenance.
The digital key has extra security measures built in that tie only your phone to your car. With it, you can hold the smartphone near the door to lock and unlock your car. You can even drive the car with just the phone. It uses several levels of security to ensure that only you – and people you give specific permission to – can get into and drive your car.
Teen Driver Tech
Teen Driver serves as a safeguard for new drivers, putting parents' minds at ease when handing over the key fob. The system can notify you if the car is driven over a certain speed, disable the audio if seatbelts aren't in use, filter out explicit content (if your car comes with SiriusXM satellite radio), and can set a volume limit on the sound system. There's even a report card that will tell parents if safety systems like ABS or forward collision alert have been triggered while your kid was behind the wheel.
Safe Exit Assist to Protect Cyclists
Riding a bike is a constant challenge in the city. Riders have to be as concerned with parked cars as they are with moving vehicles. A feature that helps riders and drivers alike is the exit warning. The alert uses rear-looking sensors to detect approaching bicycles and traffic. That ensures that a passenger doesn't open a car door just as a cyclist comes by.
These systems also work when a car is approaching. If you are parked along a street and your passenger wants to get out of the car, those same sensors can help prevent someone from opening the door as traffic drives by.
Exit warning systems work for several minutes after the engine is shut off. If the sensors see an approaching bicyclist or vehicle, they alert the passenger with a series of bright lights. The most advanced systems will physically lock the door by activating the child safety lock to prevent it from being swung open into the path of the approaching object.
Wireless Smartphone Connectivity and Charging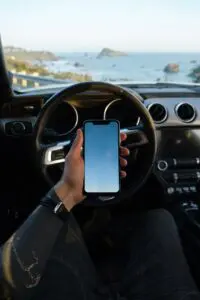 Wireless smartphone connectivity and/or charging is a great way to declutter the area around the transmission shifter. Because wireless charging uses a charging pad, that spot in the vehicle serves as a handy storage area for your phone. We recommend looking for a vehicle in your price range that offers both wireless connectivity and charging.
360 Degree Camera
This is a very popular feature that's becoming easy to find in new cars of all price ranges. A 360-degree camera is incredibly convenient and easy to use and helps reduce damage to your car.
By combining cameras on every side of the car with some clever tech, your car's display can show a virtual top-down view of your surroundings. It can show the sides of your garage or whether you're between the parking lines at the grocery store. It can also provide invaluable assistance while parallel parking.
While reverse brake assist and cross-traffic alert help to avoid collisions when backing out of a parking space or driveway, a 360-degree camera can make sure you don't hit anything while you're parking. Not only can this keep your car scratch- and dent-free, but it can reduce insurance claims from low-speed crashes. This camera is a great help when parking a large vehicle.
Video Rearview Mirror
If you've ever been to a big-box store and filled your SUV to the roof with supplies, you know what it's like to lose use of your rearview mirror. However, a video rearview mirror solves this problem. It uses a rear-mounted camera that displays the view behind your vehicle. This type of rearview mirror is in the same spot as the traditional version, but you can toggle between the regular and the video view. This type of mirror is also helpful when towing, because it gives you a wider view of the road while allowing you to keep an eye on your trailer.
Is Your Business Ready for the Growth That's Coming?
You may already offer these types of products and services. But it can be challenging to manage inventory, the work process, part delays, and customer expectations. Imagine if you experienced 10-15% growth this year. How would your business hold up under the increased workload?
PC Bennett's AutoFitmentPlus makes it easy to manage your auto parts inventory, track work in progress, technician workload, parts available to promise, and more. Take a tour of AutoFitmentPlus today and see how you can benefit from a solution built for automotive aftermarket companies just like yours.