It's Easy to Create and Use Workflows in Acumatica – See How to Do It in Just a Few Minutes
Workflows are one of the biggest timesavers for a busy manufacturing or distribution business, but many companies are daunted by the task of setting up their own custom workflows. If you have been putting off the task of setting up workflows in Acumatica Cloud ERP, this informative webinar from the award-winning experts at PC Bennett will help you banish your fears and start saving time.
In this in-depth "How To" webinar, you'll learn the full, end-to-end process of setting up a new light-to-medium complexity workflow for a real-life setting, including setting up action buttons, crafting a new workflow state, adding user defined fields, and creating notifications (called "business events") in your Acumatica ERP. Watch the webinar now.
Video Summary – Skip Forward to the Parts that Matter to You!
In this video, PC Bennett's COO and award-winning Acumatica expert Tim O'Sullivan walks you through the step-by-step process you can take to create a custom workflow including user defined attributes, email notifications, and a Pass/Fail decision tree accessed via buttons. Feel free to skip forward to the parts that matter most to you.
Important Notes Before You Begin
In Acumatica 2021 R1, this functionality works within 5-7 screens, including Shipments (which is highlighted in the webinar) and Sales Order. Contact PC Bennett or consult your Help documentation to learn more about which screens this applies to.
Good news! This works with already-customized screens – so you do not have to worry about overriding existing screen customizations when applying the tactics in this webinar.
The "Publish" function referred to in this webinar will kick out all users in the system. Feel free to create your workflows and modifications at any time but only hit "Publish" when users are out of the system.
How to Create Custom Workflows in Acumatica with Notifications
Out of the box, the Shipments screen offers key actions and workflows, but your options are very basic. You can modify and create workflows in Acumatica to match your precise business processes.
In this example, Tim walks you through the process of adding an inspector and inspection status to your Shipments screen, complete with approval workflow notifications and easy-to-use buttons that Pass the inspection or Fail it. See the process in action.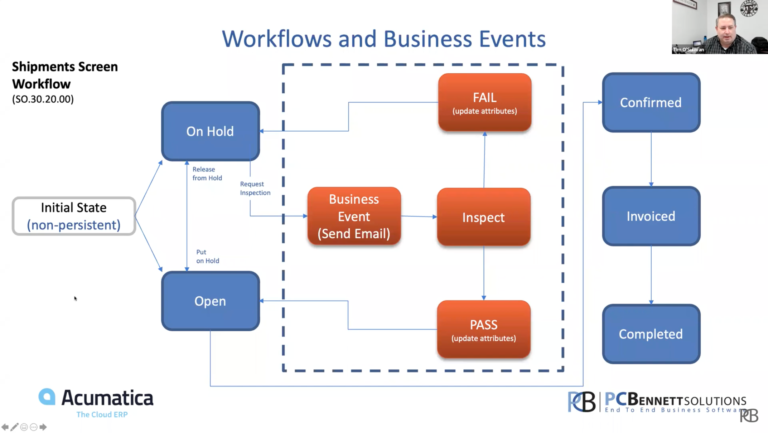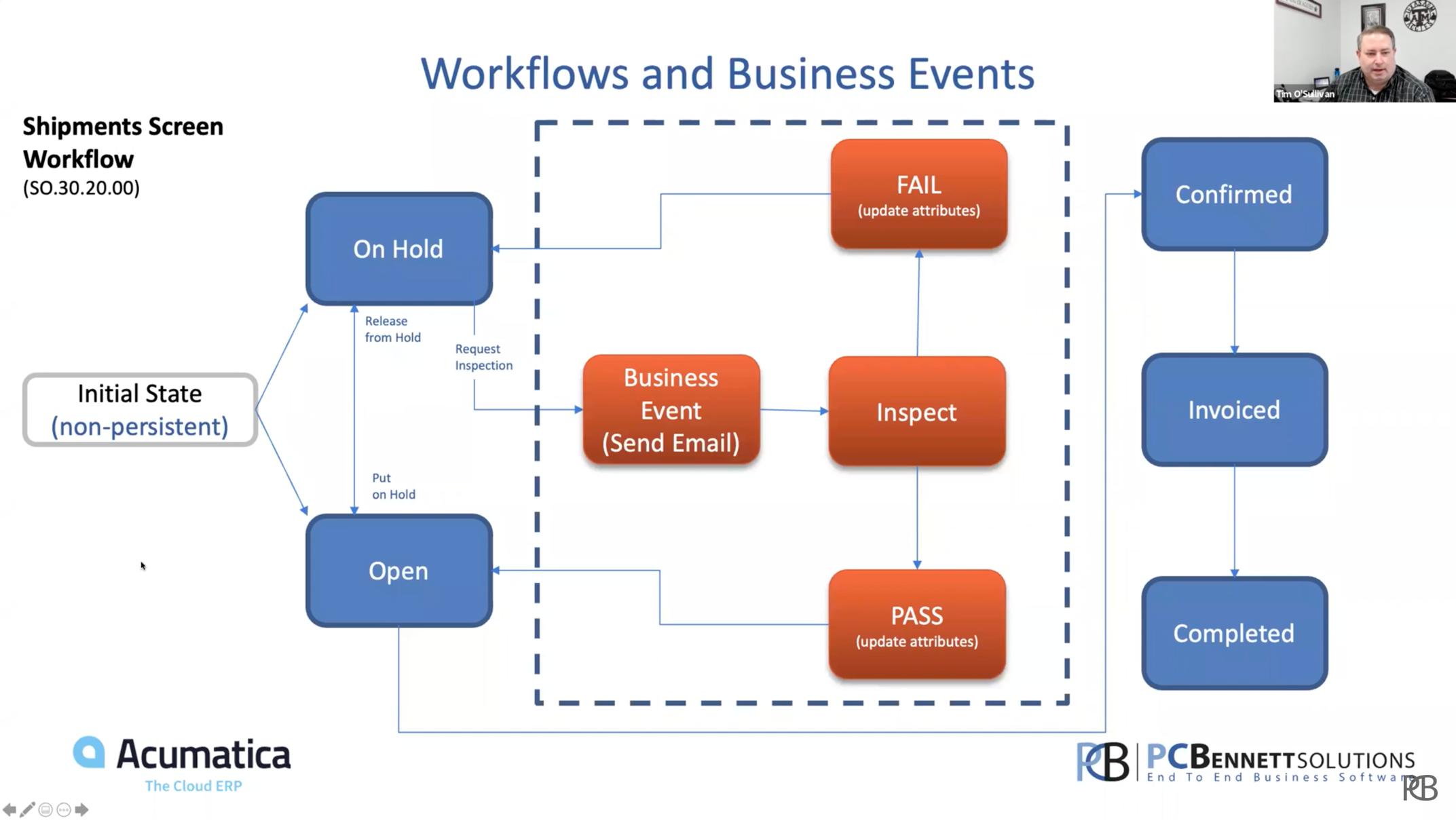 View the full slide deck here.
Setting up custom workflows in Acumatica takes a few steps and requires that you pay careful attention to the details. It can also be a bit technical at times. None of the steps in the process are hard to do, but we recommend that you watch the full webinar for an overview of how this process works and then use the bookmarks below as "refreshers" for specific tasks.
Learn how to:
Want notes? Get the cheat sheet on how to do this step-by-step process.
Additional Features
Workflows in Acumatica are extremely flexible. Once you are familiar with the process of setting them up and using them in your day-to-day business operations, you will wonder how you got along without them. As an idea of other tasks you can accomplish with your workflows, Tim quickly addresses:
Adding reports to your workflow engine (watch)
Sending SMS texts as part of your business event / notification process (watch)
Final Notes
As you can see, there is a lot to learn from this in-depth webinar from PC Bennett.
If you liked this webinar and you want to watch more great, in-depth "How To" videos that will help you become an Acumatica master user, check out our videos page. Don't forget to register for upcoming webinars too!
PC Bennett Solutions offers a personalized, full-service experience for customers by implementing business management technology. Through a hands-on approach, PC Bennett Solutions helps companies get the most out of their software system. The team provides training, implementation and customization of Acumatica. Headquartered in the Seattle area, PC Bennett Solutions is one of the largest exclusive Acumatica resellers. For more information, visit www.pcbennett.com.