Looking for the Best Automotive ERP? You've Found It. It's Acumatica + PC Bennett's AutoFitmentPlus.
If you run an automotive aftermarket manufacturing or distribution business, you deserve a better way to manage your inventory, operations, and financials.
Let's face it: those homegrown systems and one-off spreadsheets are throttling your business growth – and those paper catalogs? Don't even get us started on the time-wasting disaster they are.
By this point, you already know that a better Automotive ERP would help you grow your business, but you also know that finding the right ERP takes time to spare (which you don't have). Wouldn't it be great to learn about the one Automotive ERP that clearly stood out from all the rest as the best ERP for the automotive industry?
Let's talk about automotive aftermarket ERP software and Acumatica.
What Is Acumatica?
A leading cloud ERP solution, Acumatica handles every aspect of your automotive aftermarket business from end to end.
From manufacturing to distribution to eCommerce to service and install, Acumatica is the one single system that houses all your data, reducing the effort it takes to manage your company. In other words, Acumatica provides the time-saving tools you need so you can focus on growing your business.
Watch "Acumatica for Automotive" video on YouTube.
Like all ERPs, Acumatica streamlines traditional time wasters like financial reporting, inventory management, logistics, and sales. You expect that.
However, the reason why Acumatica is the best ERP for the automotive industry is that only Acumatica integrates with the one-of-a-kind automotive aftermarket management solution known as AutoFitmentPlus.
Acumatica Overview
Store Stock Items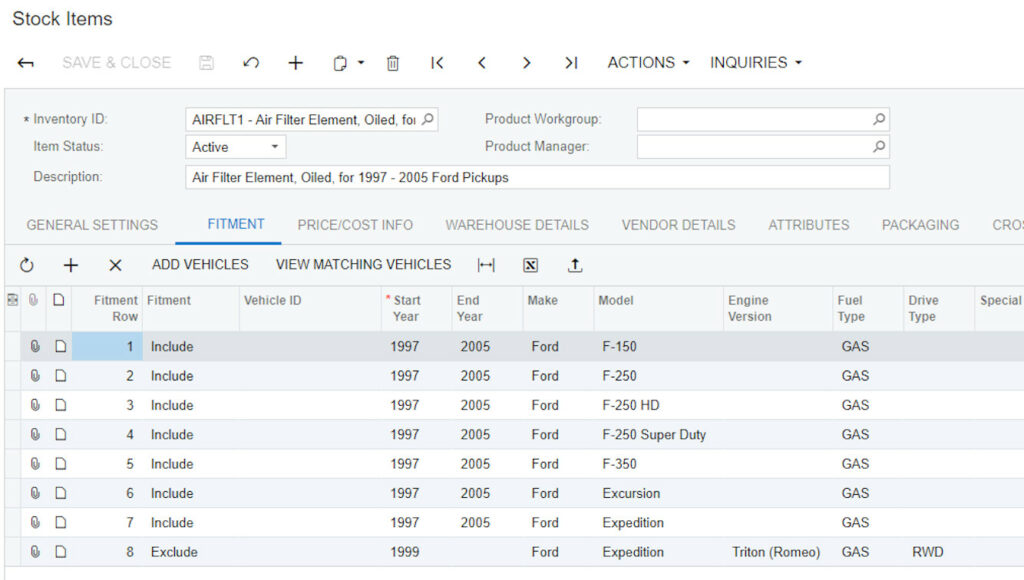 What Is AutoFitmentPlus?
Only available with Acumatica, PC Bennett's AutoFitmentPlus is the automotive aftermarket management solution developed by auto enthusiasts for auto enthusiasts.
AutoFitmentPlus is an excellent ERP solution for businesses in manufacturing, supply chain and wholesale distribution, e-commerce, and service and installation, as well as those seeking actionable business insights.
Watch PC Bennett's AutoFitmentPlus Tour video on YouTube.
Combined with Acumatica, this unique Automotive ERP helps automotive aftermarket manufacturers and distributors:
Track, manage, and filter inventory searches for parts based on years, models, styles, and color
Put the pedal to the metal on format and database lookup time for ACES, PIES, and SEMA data with automatic updates done for you
Save time on VIN Validation and Identification, with built-in capabilities
Access complete, real-time inventory records from anywhere at any time
Right-size inventory levels to meet forecasted customer demand
Set up optional alerts and purchasing recommendations that help you avoid "stock outs"
Sync up your eCommerce system and ERP for accurate, real-time part inventory data
Integrate all your databases, financials, and inventory into a single system that handles everything

The Ultimate Parts Management Solution
AutoFitmentPlus allows you to quickly narrow your search for a replacement part by specifying the vehicle's year, manufacturer, model, and engine. Locating appropriate replacement components for your customers' vehicles is a breeze with AutoFitmentPlus. Popular automotive databases such as SEMA, ACES, and PIES are fully integrated into AutoFitmentPlus.
In addition, it can be accessed without leaving Acumatica Cloud ERP, giving you a unified, comprehensive, and user-friendly platform from which to find parts, control inventory, and make sales.
Want to learn more? Download our AutoFitmentPlus Brochure
Are you currently using one of these software solutions to manage your automotive aftermarket business?:
A decades-old automotive aftermarket industry-specific solution.
Your own collection of disparate accounting, inventory, manufacturing, CRM, and eCommerce solutions that have evolved over time.
A modern ERP solution that lacks the industry-specific functionality you require.
If so, check out AutoFitmentPlus. Because while times have changed, ERP software for the Automotive Aftermarket hasn't. Until now. Download our AutoFitmentPlus brochure to learn more.
Wait, Wait, How do I Get AutoFitmentPlus and Acumatica?
At PC Bennett, we're auto enthusiasts. We're big supporters of the automotive aftermarket industry. We're also the developers behind AutoFitmentPlus and we're some of the top Acumatica experts in the world.
We agree that you deserve the best ERP for the automotive industry, and that's why we built AutoFitmentPlus for Acumatica Cloud ERP.
If you're ready to grow your business with the best ERP for the automotive industry, contact PC Bennett today.
---
PC Bennett Solutions offers a personalized, full-service experience for customers by implementing business management technology. Through a hands-on approach, PC Bennett Solutions helps companies get the most out of their software system. The team provides training, implementation and customization of Acumatica. PC Bennett Solutions is one of the largest exclusive Acumatica resellers.