Acumatica Payroll Is Different Than PC Bennett's Payroll Solution – Watch the Walkthrough
Acumatica 2021 contains an incredible 900 changes specifically for Payroll, which streamline your Payroll setup and processing tasks. For those of you who have already been using PC Bennett's Payroll solution, you may be surprised to learn about the notable differences between the two solutions. We admit, we deeply appreciate many of the changes that Acumatica made.
Ready to familiarize yourself with the latest and greatest Payroll processing tool for Acumatica? In this in-depth "How To" webinar, you'll learn how to set up your preferences and run your first payroll, using the Acumatica Payroll module. Watch the webinar now.
Video Summary – Skip Forward to the Parts that Matter to You!
In this video, 6-time Acumatica MVP award winner Patricia Bennett walks you through every step you need to follow to set up and process payroll in Acumatica, using Acumatica 2021 R2. Because payroll processes are highly specific to each business, Patricia also takes the time to explain the various options you have on each screen, so you can confidently customize your setup and processing tasks to meet your needs. Don't hesitate to skip forward to the parts that matter most to you.
How to Set Up Acumatica Payroll
Before you can run your first payroll, you must set up all your preferences. Patricia walks you through the list of Payroll Preferences options, so you understand the "why" behind each one.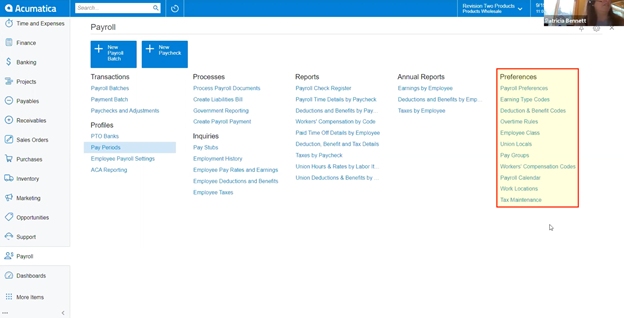 See how to set up:
Payroll Preferences (watch)
Tell the system where to pick up the GL account and subaccount from and set required fields for your Payroll processing tasks.
Earning Type Codes(watch)
View the different types of categories available and select how you would like the tax engine to apply taxes to the earning code. Define which earning codes should contribute to workers' compensation.
Deduction & Benefit Codes (watch)
Select and apply all your contribution types and simplify the taxation process using dropdowns for benefit categories including 401(k), HSA, Roth, FSA, Cafeteria plans, and more.
Since this is one of the key setup areas to focus on in Acumatica Payroll, this section includes a few detailed walkthroughs for specific setup tasks, including:
Customizing taxation settings (watch)
Define taxation settings for a 401(k) or other benefit, using dropdown options that simplify and standardize the benefits setup process.
Setting employee deductions (watch)
Set generalizations or get granular with your deduction settings, leveraging options such as choosing what precise wage categories each deduction applies to (overtime, total wages, etc.)
Creating health insurance deductions (watch)
View the options for health insurance, including Affordable Care Act (ACA) settings.
Set overtime rules, with flexibility to change those rules state by state if you have employees across a range of states. This is useful because some states categorize overtime as more than 8 hours in a day, others categorize it as more than 40 hours in a week, and some apply different rules for different days of the week.
Set the basic details for each employee class to streamline the process of setting up new employees in the system.
Important: Discover why Work Location is a key element for your Employee Class setup. (watch)
Set your pay periods for pay groups with flexible or standard options including monthly, weekly, biweekly, etc.
Workers' Compensation Codes (watch)
In the PC Bennett Payroll solution, this was set up as a tax. In Acumatica Payroll, it is set up as a deduction. See how to set the class and codes in this step – but know that this process can be confusing. If you'd like help, PC Bennett is happy to set this up for you, or we have a migration tool available that moves your existing codes from your PC Bennett Payroll solution into Acumatica.
Set the beginning and end dates for your pay periods.
Set each physical work location for your company.
Acumatica will always keep your tax tables fully up to date in real time based on government changes, but for Workers' Comp and State Unemployment taxes, you will be prompted to install an update.
Important: Find out why you should always install all available tax updates, even the ones that don't apply to you. (watch)
This setup option is substantially different than it was in the PC Bennett Payroll solution, but Patricia thinks it's much easier to work with!
How to Process Payroll in Acumatica
Now that you know how to set up Acumatica Payroll, Patricia walks you through every step you must take when processing payroll. Just as in the setup screens, Patricia offers handy explanations and context behind each of the actions you can take – helping you become an informed and confident Payroll user.
Step by step, you must:
Select the Pay Period (watch)
Add Employees (watch)
Important: Learn how and when to use additional available tabs to better ensure accuracy in your Payroll process. See how to use the Deductions & Benefits tab (watch) and the Overtime Rules tab. (watch)
Process Payroll Documents (watch)
Edit Calculated Checks, if necessary (watch)
Change or edit items per record using Recalculate (watch)
Use the Paychecks & Adjustments screen (watch)
Important: Recalculating bonuses impacts taxes. See how. (watch)
Create the Payroll Payment (watch)
Export the File (watch)
Print as many copies of the paycheck stub as you want – finally!
Create the Liabilities Bill (watch)
Complete Government Reporting (watch)
New to Acumatica 2021, government Payroll reporting is now completed through a service called Aatrix, which lets you select your state (or choose federal) and use reports specific to your state.
Important: To use Aatrix, you must have credentials. PC Bennett can help you secure those credentials with ease.
Q&A
Need to access historical Payroll data to fulfill an employee request? Patricia walks you through the process in the Q&A section.
See how to look at historical Payroll data in Acumatica (watch)
If you want detailed, audit-friendly historical Payroll data, you may notice it can be a bit hard to find in Acumatica's Payroll. That is why PC Bennett is recreating all the Generic Inquiry screens from the PC Bennett Payroll solution and giving them to their clients for free.
Final Notes
This in-depth walkthrough on Acumatica's Payroll solution was only one of the many free, in-depth webinars PC Bennett offers to help you do more with your Acumatica ERP.
If you liked this webinar and you want to watch more in-depth "How To" videos that will help you become an Acumatica master user, check out our videos page. Don't forget to register for upcoming webinars too!
PC Bennett Solutions offers a personalized, full-service experience for customers by implementing business management technology. Through a hands-on approach, PC Bennett Solutions helps companies get the most out of their software system. The team provides training, implementation and customization of Acumatica. Headquartered in the Seattle area, PC Bennett Solutions is one of the largest exclusive Acumatica resellers. For more information, visit www.pcbennett.com.