CRM in Acumatica Delivers a LOT of Functionality – If You Know How to Use It
Many organizations are so focused on the impressive manufacturing and distribution capabilities in Acumatica ERP that they overlook the innovative and extensive capabilities for CRM in Acumatica. This is a huge mistake. Before their industry focus, Acumatica's "wow" factor was their integrated CRM. In our opinion, Acumatica's CRM is still one of the best Customer Relationship Management solutions available today.
If you aren't sure how to take full advantage of your CRM power, the award-winning experts at PC Bennett are here to help you start getting more out of your Acumatica CRM, starting today. In this in-depth "How To" webinar, you'll learn the process of converting leads into prospects, creating opportunities and quotes, and converting those into sales. You'll also get a sneak peek into new CRM features and functionality in Acumatica 2021 R2, and you'll see how to manage marketing campaigns and support cases. Watch the webinar now.
Video Summary – Skip Forward to the Parts that Matter to You!
In this video, PC Bennett's COO and award-winning Acumatica expert Tim O'Sullivan walks you through every step it takes to confidently navigate the sales process in Acumatica CRM. Feel free to skip forward to the parts that matter most to you.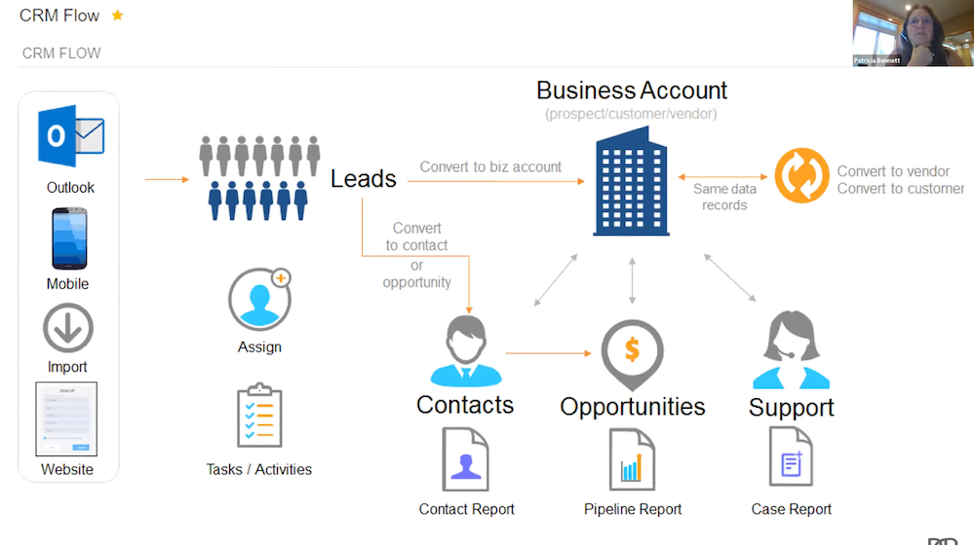 Before We Get Started…
Does the image above look confusing? After watching this video, it will be crystal clear.
As a basic overview before we get started:
Every CRM entry in Acumatica Cloud ERP centers around the Business Account, which can be a prospect, vendor, employee, or customer. Since Acumatica's unique pricing model empowers you to have unlimited users, all these options are useful for your CRM business accounts.
Here is how this works:
In Acumatica CRM, you use the options shown on the left (Outlook, Mobile, Import, Website) to create Leads, which you can assign to a salesperson who nurtures the lead by completing tasks or activities.
Once you have created a lead, you can convert it to a business account or to a contact / opportunity.This usually happens after the assigned salesperson has completed tasks or activities related to the account.
Once you have created a business account, you can convert the account to a customer or vendor, provide customer support, and access detailed reports about contacts, support cases, and your pipeline.
Look at that slide again with all that in mind. It probably makes more sense to you now – and that means you are ready to learn how to accomplish each of these tasks. To help you along, check out Tim's cheat sheet on what the webinar covers, in order.
How to Use CRM in Acumatica
Acumatica's CRM is fully integrated with Microsoft Outlook, which gives you the ability to save emails or tasks from Outlook to Acumatica, or to manage lead activities from directly within Outlook. Starting with creating a lead directly from within Outlook, Tim will help you understand the complete, end-to-end flow of sales using CRM in Acumatica.
How to add a lead
The first step to using your Acumatica CRM properly is entering leads. In Acumatica, every contact is initially called a lead. You can import lead records or collect them from your website, but salespeople especially appreciate entering leads directly from Microsoft Outlook.
How to convert a lead into an opportunity
Once you have a lead, following up will help you transform them into an opportunity. Acumatica's CRM helps you maintain clear insight into all the lead nurturing follow-up activities your sales team has taken.
How to manage the quoting process
Ready to turn that opportunity into a customer? The process begins with a quote, which is easy to complete and track with CRM in Acumatica.
How to complete a sale
Now that you've put in the work, it is time to close that deal. Not only does Acumatica make it easy to complete a sale, the cloud ERP also grants you full insight into your sales success so you can optimize your processes and win more deals in the future.
Convert an opportunity into a business account, which makes it possible for you to classify someone as a customer or vendor (watch)
Create a sales order and view orders associated with the business account (watch)

See the difference between the Business Account view and the Customer view (watch)

Ensure that sales show up in your reporting and pipeline for further analysis (watch)
Additional Capabilities for CRM in Acumatica
Although efficient selling is the #1 reason to use a CRM solution, Acumatica's CRM delivers more than just sales management and tracking. Tim shows you how to go further with your CRM when you:
Use the mobile app to manage your sales process (watch)
Create, assign, and manage a support case (watch)

This functionality will be available in Acumatica 2021 R2
Your Sneak Peek into Acumatica 2021 R2 – Coming Soon!
In addition to all this, Tim also takes time in this video to show off new features in Acumatica 2021 R2, including:
New status update look and feel (watch)
New workflow engine with suggestions for likely next steps and a big, green button (watch)
New Action Menu layout (watch)
Q&A
Wondering how to set up your Outlook integration with Acumatica? Tim walks you through the process in the Q&A section.
See how to set up your Outlook integration with Acumatica (watch)
Tim goes through the process quickly, so don't hesitate to reach out as soon as you have questions.
Final Notes
As you can see, this webinar from PC Bennett holds a lot of information.
If you liked this webinar and you want to watch more in-depth "How To" videos that will help you become an Acumatica master user, check out our videos page. Don't forget to register for upcoming webinars too!
PC Bennett Solutions offers a personalized, full-service experience for customers by implementing business management technology. Through a hands-on approach, PC Bennett Solutions helps companies get the most out of their software system. The team provides training, implementation and customization of Acumatica. Headquartered in the Seattle area, PC Bennett Solutions is one of the largest exclusive Acumatica resellers. For more information, contact us.